NEWS (English)
NEWS (English)
--- October 2023 ---
> Concerts in Belgium & Luxemburg on October & November
> Purple Smoke Live at the "Let There Be Rock Festival" in Vielsalm (Be) on november 10th
> Full Album ALGORITHMIC LOVE & New "Koffe Time" Song on the Sterpi's Youtube Channel!
--- February 2023 ---
New single "Coffee Time" by the guitar-duo
KOFFEE TIME [Sterpi & Kader Fahem]
now exclusively available on Youtube!!!
--- August-September 2022 ---
Release of the New album "Algorithmic Love".
Double concept album (30 tracks) now available on all platforms & CD.
Algorithmic Love tells a story and every song is a chapter.
In the same time Sterpi released his "Best Of & Classic of Rock" availbale in concert on double cd (Classics of Rock feat. cover of Santana, Jimi Hendrix, Deep Purple, Led Zeppelin, Dire Straits, Pink Floyd, Prince...)
-- September 25th 2021 --
On saturday October 9th will be released the 1st Single ALMA AMIGO of "Koffee Time":
Koffee Time is a collaboration, on 3 tracks, between Kader Fahem & Sterpi !!!
(Flamenca guitar mixed with Rock guitar & Electro Touch)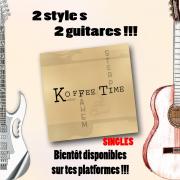 A new Sterpi's album is in progress!!! News very quickly...
The previous albums remain available in concert and on all platforms (including Youtube)
And to find yourself in Live see the new dates added regularly in the agenda !!!
See You !!
PREVIOUSLY :
New titles are in preparation as well as collaborations with other artists.
One of these projects, still "Top Secret", consists of an association between two styles of guitarists on a basis of experimental and "modern" music.
The second project involves "graphic" artists (photographers, painters, designers ...) who have accepted to share their works in a series of video clips entitled "Arts-Fusion", illustrated by the music of Sterpi.
These clips in the form of slide shows will soon be available on Facebook and Youtube.
*
Sunday 07 26 2020
The successor to "Outlaws ..." will be there on July 31st !!!
It will be available on Spotify and all platforms,
as well as in "Lyrics-clips" on Youtube with the translation of the texts in French !!!

*
06-30



I hope that you emerge unscathed (even better: "stronger") from this unfortunate period.
It's not all behind us yet, but we can see the sun
and the music is always alive to make us vibrate !!!
I didn't expect to give a "follow-up" to "Outlaws ..." so soon, but
during this confinement period, what can a musician do if not
improve or compose?
So I plugged in my guitars, my keyboards, my bass, my neurons
and my emotions to concoct 6 tracks from a new album ...
So this is the sixth ...
Hmm, six tracks ... sixth album ...
Okay ! It will simply be called: "NUMBER 6".
And then because "Number 6" is also the name of "Prisoner" this series of the 70's
which is not without recalling, in certain aspects, what we experienced ...
(Surveillance, call to order, propaganda, speeches from number 2 ...)
"- I am number 2!
- But, who is number One?
- You are Number 6!
- No! I'm not a number, I am a free man! "
Understand who saw the series or extracts.
In any case, no need to have seen "The Prisoner" to
delve into this next album.
It will quickly be made available to your ears, and honestly,
I am really very proud of the result both in terms of content and form.
You will be able to judge it within the next few days.
In the meantime, be well and stay "groovy";)
The concerts resume very slowly from August, see you very soon live !!!
Kisses - Chris -
Date de dernière mise à jour : 12/10/2023